International Conference: Plato on Comedy

Plato on Comedy
This research project aims to explore Plato's rich and nuanced treatment of Greek comedy. In recent years there have been a number of high-quality publications on a variety of topics related to Plato and comedy. These works have often been more narrow in their focus, and fall within the contemporary disciplinary boundaries of either philosophy or classics. This is perhaps understandable given that lacking in the Platonic dialogues are the kinds of sustained treatments of comedy that we find for tragedy and epic. But yet, as this recent scholarship has shown, engagements with comedy, comic poets, as well as comic vignettes, tropes, and all manner of comic 'business' litter the dialogues.
This project aims to offer the first systematic investigation of Plato's engagement with comedy. This project will take a uniquely interdisciplinary approach to this issue, and will include both philosophers and classicists who work on topics including Plato's poetics, the wider philosophical reception of comedy, and comedy itself. In doing so we hope to illuminate the scope and complexity of Plato's treatment of comedy, and situate Plato's treatment of comedy within a broader history of development of the comic tradition, and its reception.
This conference is supported by funding from the Society for the Promotion of Hellenic Studies as well as DCAMP, the Durham IAS, and the Durham Faculty of Arts and Humanities.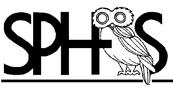 Venue:
Masonic Hall, Old Elvet, Durham DH1 3HN / Birley Room, Hatfied College, Durham DH1 3RQ